Neural DSP has partnered with Darkglass Electronics to release Darkglass Ultra Plugins, a plugin modeled on Darkglass's Ultra pedal series for bass guitar players.
The plugin includes two of Darkglass Electronics' most famous products: B7K Ultra and Vintage Ultra.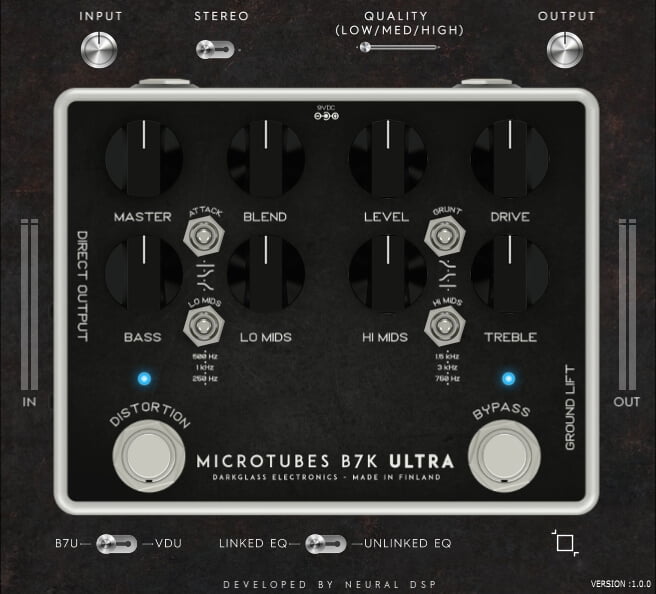 Darkglass Electronics Microtubes pedal series has become the industry standard for a reason, they simply work extremely well at getting some of the best bass overdriven sounds with minimal effort, we thought that just as there are countless bassists wanting to achieve the same sounds, there would be plenty of engineers and producers wanting the same options in plugin form.
The Microtubes B7K Ultra features all the versatility and sonic possibilities its predecessor is known for plus amazing features:
A dedicated Footswitch to engage the overdrive section independently.
A Master volume to control the overall unit level.
Three way toggle switches for each mid control, with a total of 6 different mid frequencies at your disposal the B7K Ultra allows you to create and tailor your tone to perfection: From crisp, punchy clean preamp to obliterating high gain distortion, and everything in between. The B7K is an universal tone crafting machine.
The Vintage Ultra is the result of the finest engineering process Neural DSP has ever accomplished. 40 years ago it was necessary to carry a massive amp to have a rich, tight and articulate sound for bass players. Today, all you need is a super portable preamp which enables on one side a massive clean sound, and from the other side, a tasty saturated sound. This is a true elixir for low end lovers.
The Darkglass Ultra Plugins come with some additional features, including input and output gain knobs, link/unlink EQ, stereo signal processing, adjustable quality, large/small interface, and a switch to change between the VDU/B7K pedals inside the same plugin. Each pedal will keep its own configurations, except for global plugin configurations.
Darkglass Ultra Plugins for Windows and Mac (VST/AU/AAX) is available for 99 USD/EUR. A 14-day trial is available (requires iLok).
More information: Neural DSP