iZotope has launched a new member in the Neutron series of mixing plugins that combine the latest innovations in analysis and metering with award-winning audio processing.
Neutron Elements offers 4 built-in mix modules, the Track Assistant, EQ Learn, Neutrino Spectral Shaping, and over 200 professionally designed presets, making it a great choice for home studio musicians and mix engineers.
Neutron Elements includes powerful new features like Track Assistant and EQ Learn to help you quickly reach an optimal starting point, identify mix issues, and fully wield creative control over all your mix decisions.

Pair that with four powerful intuitive processors: EQ, Compressor, Transient Shaper, and Exciter, and you're ready to take on any mix.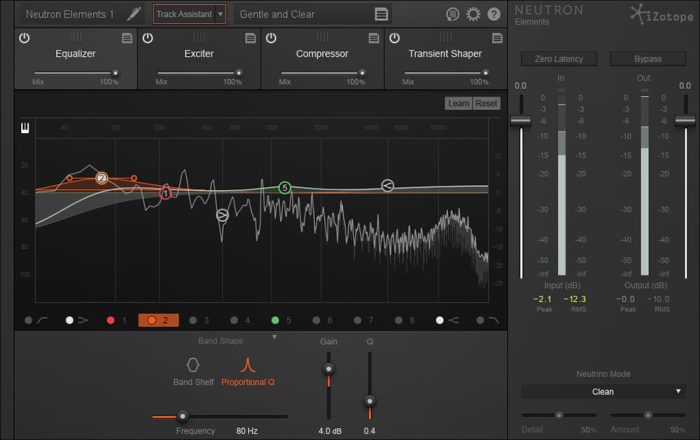 Neutron Elements features
Track Assistant — iZotope's revolutionary machine learning mixing assistant lets you create a custom preset based on your audio. Get to a starting point faster so you can focus on what's most important— your creative take on the mix.
EQ, with EQ Learn — This workhorse EQ features clean yet subtly warm processing and a pristine analog-style signal path. With 12 bands of powerful static EQ and a range of new and vintage filter types, it's your new go-to EQ for all your mixing tasks. With EQ Learn, Neutron Elements listens to your audio to help hunt down harshness, sibilance, and resonance in seconds.
Compressor — A parallel processing powerhouse, the Compressor offers the ultimate sonic versatility: the very best of classically 'gluey' character as well as transparent digital compression styles. Adjust to taste with features like Vintage mode and Auto Release.
Track Identification — Different instrument tracks— like vocals, dialogue, guitar, bass, and drums — are automatically detected. Neutron Elements then applies the spectral shaping technology within Neutrino mode to provide subtle clarity and balance to each of your tracks.
Transient Shaper — The new Transient Shaper offers clarity, perceptual loudness, and impact enhancement for the most responsive sonic sculpting anywhere. With three musically versatile Contour controls, your drums, guitars, vocals and sound FX have never sounded this punchy.
Exciter — The Exciter allows you to easily add punch, warmth, brightness, and presence to your track without muddying the sound. Customize to your liking by choosing from three global saturation modes: Full, Defined, and Clean, and blend to your heart's content across Tube, Warm, Tape and Retro saturation types.
Over 200 presets — Audition and pick one of over 200 module presets to build your mix piece by piece for quick results.
Neutron Elements (VST/AU/RTAS/AAX) is available from Plugin Boutique at a 20% introductory discount until June 30th, 2017.
More information: Plugin Boutique / Neutron Elements