Erica Synths has introduced its latest Eurorack module Black Joystick2, allowing a deeper tactile interaction with your modular system.
Black Joystick2 is an eight channel, multi-functional CV and sound source.
Since Black Joystick2 is a joystick, a movement recorder, a distinct LFO and a drone/noise oscillator all in one, it offers many possibilities and allows users to develop unconventional modulation patterns instantly.
Black Joystick2 features 8 simultaneous CV outputs, 2 gate outputs, and 4 motion record channels. It comes with Sine and Random LFOs with adjustable frequency and amplitude, a drone/noise oscillator, gate record, and two 4-position CV panners.
The module will be shipping next week, priced at 210 EUR.
New modular synthesizer systems
Erica Synths has also announced availability of the Liquid Sky Noise System II developed in cooperation with the Liquid Sky artist collective.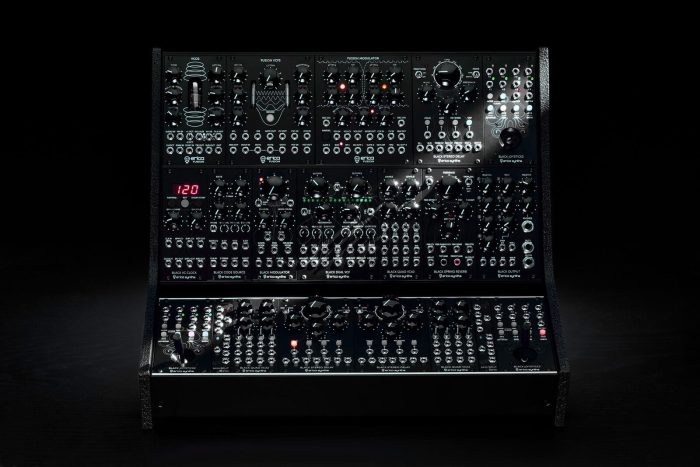 This is Noise System II is a modular synth-lab dedicated to creating all kinds of abstract, organic sounds including analog noise, ambient soundscapes, industrial noise, bad ass bass. spheric atmospheres. experimental unheard drones, sonic glitches and a range of thrilling horror / sci-fi-sounds that will be of interest to the scoring and effects community of professionals.

Every single module of the system can be used as a sound source on its own, making the possibilities for sound, noise and atmo-experiments are virtually endless.
The Quadraphonic Surround Panner is an expander row of modules for the Dada Noise System II. When integrated with the Dada Noise System II, it vastly extends spatial functionality, making it the perfect tool for film postproduction, installation works, game-sound design or quadraphonic performances.
Both the Liquid Sky Noise System II and the Quadraphonic Surround Panner are available now and priced at 3,320 EUR and 1,820 EUR respectively.
Pico series additions
The Pico series of affordable 3HP Eurorack modules sees two new units.
Pico EF is Erica Synths' take on an envelope follower module. It features a preamp with +40dB gain — which is enough to boost even guitar and dynamic microphone signals for use in a modular system.
It also includes a dedicated envelope output with adjustable attack time, and a gate output with adjustable threshold.
A super versatile Eurorack modules, the Pico EF can be used as a preamp, overdrive unit or for controlling VCFs with audio signal. It can also be used with external instruments to control your modular system in other creative and experimental applications.
Meantime, the Pico VCA2 is a compact voltage controlled amplifier module, based on the reliable AS3330 chip.
It features two independent channels: the first one comes with the manual offset adjustment, which is useful for full span vibrato effects. Audio and CV inputs of the first VCA are normalized to the second input, so the module can also be used as a buffered audio splitter. VCAs are DC coupled, and they can be used for controlling amplitude of control voltage signals.
The Pico EF and Pico VCA2 are available now for 95 EUR and 85 EUR, respectively.
More information: Erica Synths