KRK has introduced the latest addition to its range of studio gear with a new generation of powered subwoofers.
Coming spring 2021, the new series of KRK Studio Subwoofers will be available in 8-, 10-, and 12-inch variations: S8.4, S10.4, and S12.4. Building on KRK's legacy of sonic accuracy and performance, the new KRK subwoofers deliver tight, accurate, and defined bass, while the highly efficient Class D power amplifiers dramatically increase transient response, control, and punch.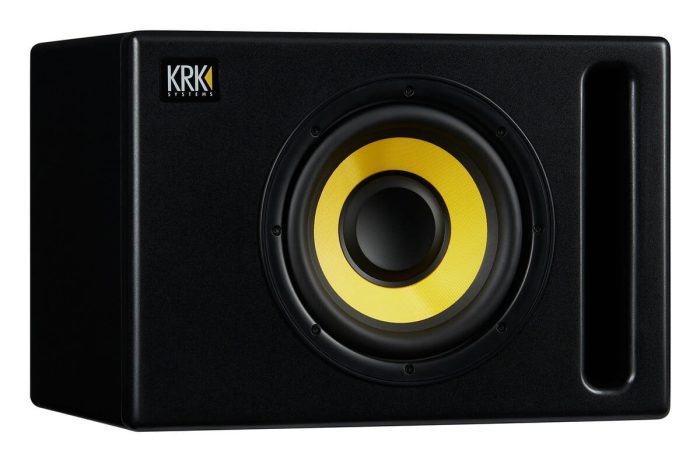 The redesigned cabinets feature a more compact profile compared to their predecessors, allowing for improved placement flexibility and a timeless design that provides a more professional aesthetic.
"KRK's redesigned subwoofers don't just deliver precise bass and a rich feature set; they're the next dimension in subwoofer performance," says Sterling Doak, Director of Marketing for Gibson. "When mixing tracks for bass-heavy genres, it is especially important for producers and DJs to integrate a quality subwoofer solution into their studio set up. Our new generation of subwoofers are perfect for reproducing the low end of your mix—ensuring that you're giving your tracks the exact amount of bass you desire."
The new KRK Studio Subwoofers feature a wealth of connectivity options with XLR, 1/4″ TRS, and RCA inputs and outputs that interface with just about any manufacturer's studio monitors, mixers, and/or audio interfaces.
With an exclusive bypass control feature, users can send full-range audio to their monitors at the click of an optional footswitch without having to move out of the monitoring sweet spot to turn off the subwoofer. This allows for instant comparisons with (and without) the subwoofer's contributions to the sound. Additionally, polarity and input sensitivity controls allow for phase coherence and level-matching to enhance the quality of your mixes.
Visit KRK Systems for more information.
Zen Go Synergy Core
Antelope Audio has announced its first bus-powered, truly portable audio interface at NAMM's Believe in Music Week.
The Zen Go Synergy Core 4×8 bus-powered USB-C audio interface is powered by the same Synergy Core onboard effects processing platform found in Antelope Audio's top-tier audio interfaces.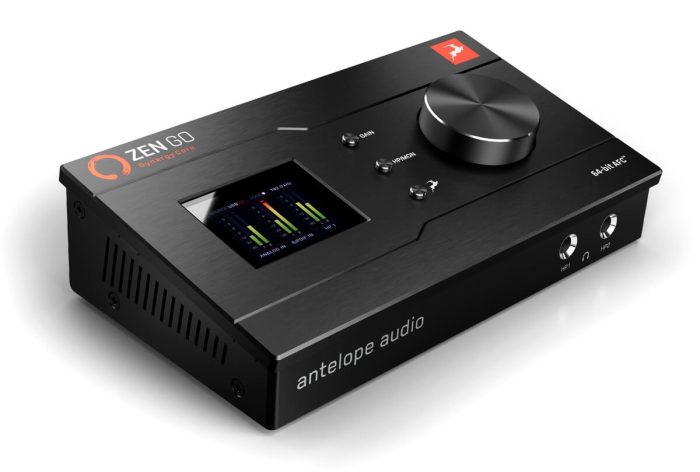 Zen Go Synergy Core is the first ever bus-powered desktop interface packed with tech featured only in high-end professional studios, giving you instant access to premium sound quality wherever you are. Our vast library of Synergy Core analog-modeled effects lets you shape your sound with precision and character – all while monitoring in real-time with imperceptible latency.
Zen Go Synergy Core features
Class-leading AD/DA conversion with up to 127dB of headroom.
Recording, mixing and playback at up to 24-bit/192kHz.
Proprietary 64-bit Acoustically Focused Clocking (AFC™) technology & Jitter Management algorithm delivering increased width, separation, and detail in musical performances.
2x Discrete ultra-linear preamps with 65dB of gain for studio-quality recordings. All work as microphone/line/Hi-Z inputs, on combo XLR jacks.
USB-C port carrying up to 8 input and 8 output channels in any popular DAW with custom macOS & Windows drivers.
Secondary USB-C port allowing reverse-charging.
Digitally expandable over S/PDIF.
Analog monitor outputs including 1x stereo output over RCA and 1x stereo output over TRS (mirrored).
2x stereo headphone outputs with separate gain control, compatible with wide variety of headphones.
Bus-powered interface – powered by the USB connection without need for a dedicated power source.
Direct monitoring with Synergy Core effects, processed in real-time with imperceptible latency.
Simplified I/O routing with pre-configured settings, allowing immediate recording and playback.
Front panel with dedicated volume knob and buttons for frequency adjustment, and hands-on control of core parameters.
Customizable presets with signal routing, level adjustments, mixer and effects settings.
Customizable monitoring mixes with adjustable volume, pan and reverb.
Collection of 37 Synergy Core effects modeled after classic and rare analog outboardgear.
Synergy Core proprietary onboard platform powered by DSP & FPGA chips for real-time effects processing with imperceptible latency.
Included Synergy Core Effects: 2 Preamps (GyrafGyratecIX, BA-31), 4 Equalizers (incl. VEQ-1A, VMEQ-5), 5 Compressors & Limiters (incl. Stay-Levin, FET-A76, VCA160), 22 Guitar Amps & Cabs (incl.Bluelux1x12, Tube Guitar Amp), 2 Special Processing Effects (Expander, Noise Gate), 1 Reverb Effect (Auraverb), 1 Guitar Tuner (A-Tuner).
Zen Go Synergy Core will be shipping in Q1 2021, at a projected price of $499 USD/499 EUR.
Revolution 2×2
Black Lion Audio has also introduced a brand new audio interface. The Revolution 2×2 is a bus-powered, portable 2×2 USB-C studio grade desktop model audio interface.
The bus-powered 24bit/192KHz interface features macro MMC clocking, an analog circuit design utilizing Nichicon and Wima capacitors, and PG-i technology. It comes with a Revolution Software Suite which includes Studio One Artist, Izotope Elements Suite, BrainWorx BX Digital, and Lindell 6X500.

Black Lion Audio have been revered as the "king of audio mods" for years, and have modded countless recording interfaces over the years. But since the very beginning, we've been asked when we would create our own interface. So, we planned, engineered, and worked — all in secret, for years. It took an impressive amount of design to revolutionize bus-powered, studio-grade interfaces.

Now we are responding with Revolution 2×2: the ultimate in portable recording interfaces. Revolution isn't another run-of-the-mill interface from big brother — it's the interface the world has always asked for. Don't just settle for "the cheap and portable" – get an interface that can do more than just start a demo, but actually finish a top-level record from start to finish.
Revolution 2×2 will begin shipping in February 2021, priced $399 USD / 399 EUR (ex. VAT).