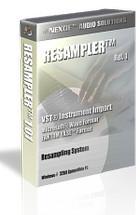 Nexoe Audio Solutions has released Resampler, a software designed to bring sounds of VST instruments into your hardware sampler (esp. the Roland Fantom Series Sampler, in combination with Fantom YASE).
VST instruments make the life in the studio more and more easily. You copy your session data to a memory stick instead using heavy hardware synthesizers. Since years VSTs can provide better sound quality and flexibility. But what about playing these sounds onstage?

Even in our days it is a risk to use a Laptop or other PC-Hardware onstage, regardless of the operating system, because of its lack of safety. That's why the most of professional keyboarders prefer using hardware synthesizers and samplers instead of PC's for the live performance.

The question: How to put the (VST) studio sound into the hardware sampler? The answer: With the RESAMPLER!
Resampler features
Stand-Alone ASIO and VST Instrument Host

Microsoft Windows XP or Vista (32bit) application.
Live Play Mode, you can pre-listen what you will record.
Fully compatible with Microsoft Windows ASIO
and MIDI-drivers.

Fully integrated graphical interface

Real Hardware design.
VST Mixer.
MIDI Automation (with graphical Key Range Editor, Velocity Range Editor and Sample Length Editor).
Recorder Section.

Quick start enabled

3 Templates for MIDI-Automation with different complexities, accessible with one click, fully customizable.
Quick Start Tutorials.
Simple Function Buttons.

Comprehensive Patch Creation Algorithms

4 VST-instruments can be mixed and recorded simultaneously, with routing to 2 additional VST-effects.
Creation of complex Sound patches within few minutes.
Creation of Fantom YASE compatible Patches.
Resampler is available for Windows PC (VST/Standalone) for 160 EUR (excl. VAT). A 30-day trial version is available for download here.
Visit Nexoe Audio Solutions for more information.