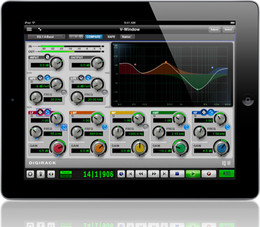 Neyrinck has updated the V-Control Pro multi-touch control surface app to version 1.5.
V-Control Pro provides a fully-featured, multi-touch control surface for Pro Tools, Logic 9, Cubase/Nuendo, and many more DAW's. V-Control Pro uses WiFi to control transport, editing, and mixing functions. V-Control Pro provides advanced control of sends, automation, groups, auditioning, plug-ins, jog/scrub/shuttle, I/O assignment, and other controls within an easy-to-use interface. V-Control can be used simultaneous with ethernet controllers used by Pro Tools.
Changes in V-Control v1.5
V-Window – Provides window control for plug-ins, surround panners, and any other windows.
MultiPanel – New multi-purpose view for a better organized GUI.
Additional DAW Support – Live, Reason, Reaper, Studio One, FL Studio, Tracktion.
Logic Improvements – Instrument parameter editing, counter jog/scrub control.
Pro Tools Improvements – Full-screen surround panner control. Sticky modifier buttons.
V-Control Pro is available to purchase from the iTunes App Store for $49.99 USD.
More information: Neyrinck / V-Control Pro