Soundiron has announced the release of Noah Bells, a tuned percussion library for Native Instruments Kontakt, featuring a deeply sampled collection of 21 traditional Indian Khadki bells, covering a wide ascending range of sizes and pitches, from massively resonant deep notes to small, brittle high notes.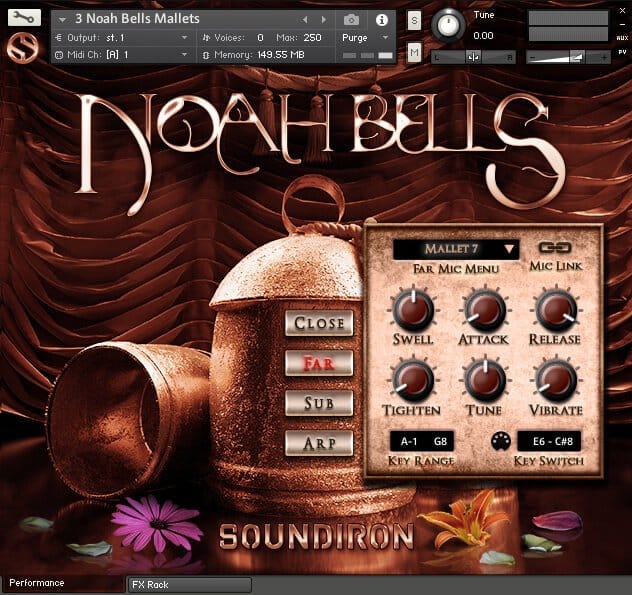 These hand-crafted, hammered metal bells are smelted from simple iron and copper alloys. They range in size from over two feet to less than an inch in diameter, with carved wooden clappers. They have a dark, raspy and heavy tone with lots of mid-range body, a rather variable sustain and strong, complex overtones and undertones.

Each bell was recorded in multiple velocities with plenty of round-robin variation to create a naturally dynamic and truly playable virtual instrument. They were captured up close and dry in wide stereo and from afar in a large open cathedral sanctuary to give you very distinct tonal and atmospheric flavors to blend and choose from. You can use our intuitive UI controls to customize your sound with a variety of options such as swell, attack, release, tightness, tuning, vibrato, articulation selection, an optional sub-synth waveform module for tonal reinforcement and a complete step-sequencing arpeggiator system.

The history and true origins of Noah Bells is a bit fuzzy and rather conflicted, depending on where you look and whom you ask. As far as we can tell, they actually originate and are still primarily made in the village of Nirona, in the Kutch district of the western state of Gujarat in India. The name "Khadki" translates simply to "bell" in the local Kutchi language. These bells have probably been produced there by the same small number of local families over the last few hundred years, using techniques that have been passed down from generation to generation. First imported to the United States by Maharani Imports in the late 1960s, they've been popularly renamed here after Noah Shah, the son of Maharani Imports' founders, Bonny Karstadt and Ratilal Shah.

The custom scripted Kontakt user interface built into this library comes equipped with flexible control features, like attack, release, transient offset (tighten), dynamic swelling, vibrato, and a robust Arpeggiator system that provides a full range of custom dynamic modes and step sequencer pattern creation options. There's also a complete DSP effects rack, including convolution reverb with dozens of unique spaces, such as cathedrals, churches, halls, bunkers, garages, tunnels, chambers, rooms and plenty of otherworldly FX impulses to fully explore and endless variety of strange and unexpected sonic manipulations.
Noah Bells features
19 powerful Kontakt .nki instrument presets.
1,733 Samples.
3 GB Installed.
24-bit, 48 kHz Stereo PCM Wav Format.
34 unique ambient pads, leads and atmospheres.
Multi-FX Rack and reverb with 70 room, hall and FX impulses.
Noah Bells is available for purchase for $39 USD. The flexible user interface is designed for the full retail version of Kontakt 5.5 and later, but all of the samples are unlocked 24bit/48kHz wavs that you can use in any standard wav-compatible program or plugin you like.
More information: Soundiron / Noah Bells