Northern Scoring Tools has announced the release of Northern Woodwinds: Solo Oboe, the first installment of its fully modular range of orchestral virtual instruments.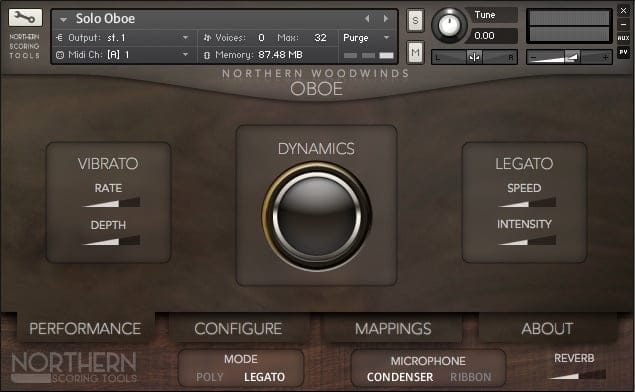 We sampled the full range of the instrument, including each note-to-note transition (up to an octave up and down) to allow you to create realistic and expressive legato lines. We also recorded 'same-note' transitions, allowing for natural-sounding note repetitions.

Dynamics and vibrato are modeled, allowing full, automatable control of the entire performance, while avoiding any unwanted artifacts caused by crossfading between different samples.

It features a choice of two distinctive microphones to allow the oboe to fit in a variety of different instrumental contexts.

The patch is deeply programmed and scripted to make the instrument as playable as possible, with features such as 'adaptive legato' where the legato speed automatically adjusts to your playing speed.
Northern Woodwinds: Solo Oboe features
48KHz/24 bit resolution.
Over 1400 samples, supplied in NI's lossless NCW format.
True legato, including same-note transitions.
Fully controllable dynamics and vibrato.
Adjustable key click samples.
Intelligently scripted for maximised playablilty.
Very modest memory footprint – 87 MB when loaded.
The library is available for purchase for £40 GBP. Requires the full version of Kontakt 5.1 or above.