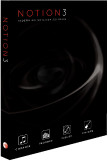 Notion Music has released Notion3, a music notation software for PC and Mac.
NOTION3 is not just another music notation software program. It is based on a simple premise…you want your music to sound good.

NOTION3 is the first product that truly bridges the gap between notation and an audio application. So now, not only can you compose and hear your notated score played back instantly with real instrument samples, you can actually perform live or produce music that sounds simply amazing.
New in Notion3
User Interface — Easy to look at. Easy to Use. No special training needed to use NOTION. It's sleek screen design and intuitive workflow let you focus on your music.
Studio Compatibility — NOTION3 is the only notation product with full ReWire integration that supports both host and slave options. Built to be compatible with digital audio workstations, NOTION3 works effortlessly with third-party VSTi libraries and VST effects, has full MIDI functionality, and can save as or import audio files.
Pro Audio Mixer — A perfect blend of form and function, NOTION3's Pro Audio mixer comes complete with buses, inserts, sends, and multiple direct channel outs. NOTION3 comes bundled with two VST's from IK Multimedia; IK's Classic Studio Reverb (CSR) and Amplitube X-Gear.
Over 10 GB of Sounds — Exclusively featuring the London Symphony Orchestra as well as popular instruments such as guitar, bass, and drums recorded by legendary artists at top studios around the world.
Sequencerstaff — Truly the best of both worlds. When you Input your music with a MIDI device, NOTION3 retains all the MIDI data including modulations, bends and dynamics like a sequencer; but shows the display on a traditional notation staff. You can keep the Sequencer Staff view or convert to notation instantly.
Live Performance — The only notation product with advanced real-time tempo control that includes vamps, repeats, score navigation and other features allowing it to be used like a musical instrument with accompaniment, rehearsal, or professional live performances.
Notion3 is available for purchase for $249 USD.
More information: Notion Music / Notion3