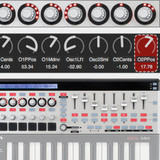 Novation has released version 3.5 of Automap, the software which enables Novation's keyboards and controllers to take instant control of DAWs and plug-ins.
Automap is a piece of software that comes with all Novation controllers. It has been designed to make the job of assigning your hardware controls to various software parameters quick and easy.
Changes in Automap v3.5
Support for VST3 software (including Cubase & Nuendo plug-ins) — Automap v3.5 can instantly assign compatible Novation controllers (SL MkIIs and the Nocturn range) to VST3 plug-ins. These include the built-in instruments and effects in Cubase and Nuendo.
Nocturn device support for Ableton Live — Novation Nocturn and Nocturn Keyboards can now instantly control Ableton Live's instrument and effects devices, with no assignment necessary! (Ableton Live v8.1.3 or later is required.) Note: the Novation SL MkII range already has very tight integration with Ableton Live.
64-bit Logic support — Automap now includes 64-bit support for Logic.
The new update also includes various bug fixes that improves Automap's stability. It is compatible with Macs running Leopard (v10.5.8) and Snow Leopard (v10.6.3), and Windows PCs running XP (SP3 32-bit), Vista (32-bit) and Windows 7 (32-bit & 64-bit).
The update to Automap v3.5 is free to download from the support pages of the Novation website.