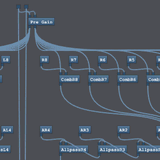 Plogue has released version v0.9705 of Bidule, a modular audio software for Windows and Mac.
The brainchild of Plogue Art et Technologie, Bidule is a cross-platform application that is gaining recognition world-wide as the new standard in modular music software.
Changes in Bidule v0.9705
Added LFSR (Linear Feedback Shift Register).
Added Gate Clock.
Added Basic Audio File Player 2.
Added attempting to load an audio file using OS functions if libsndfile fails (OS X: ExtAudioFile, Windows: Windows Media Format).
Audio File Player: now behaves like audio and MIDI devices for MP Assign.
Added autosave mode.
Fixed: Groups: using spectral inputs/outputs could cause a crash.
Fixed: Groups: using relative modulation with group parameters could result in the modulation being applied twice.
Fixed: Group selected: some parameter links are not restored.
Fixed: Magnitude EQ: parameters are not loaded correctly.
Fixed: MIDI File Player: crash could possibly occur when using Follow Sync Source transport state.
Fixed: MIDI Splitter: could crash when set to split by Note.
Fixed: OSC : a crash could occur when removing a bidule from the layout and OSC Server is enabled.
Fixed: Plugin & ReWire mode: MIDI output events could end up be out of sequence.
Fixed: Plugin Mode: clearing the contents of Basic Audio Buffer and Multitap Delay doesn't work if the UI is not shown.
Fixed: Presets: the current preset is not saved before it is changed to be read-only.
Fixed: ReWire Mode: under some specific circumstances the tempo taken from the host is using a wrong value.
Fixed: Windows: double-clicking on elements in both Lock Parameters and Exported Group Parameters dialog could cause a crash when running the 32-bit version on Windows 7 64-bit
+ many more fixes.
Bidule is available to purchase for PC and Mac (standalone/VST/AU), priced at an "early bird" price of $75 USD excl. VAT.