Novation has introduced the Launchpad Mini and Launchpad Control, two new controller units.
Launchpad Mini
The Launchpad Mini is a compact version of the celebrated Novation Launchpad, featuring 64 three-colour launch pads and 16 performance buttons that enable you to produce and perform music with your iPad® – as well as your PC or Mac.
Launchpad Mini is part of the growing 'Launch' family of music-making gear. Partner Launchpad Mini with its bigger brother Launchpad S, grow your studio with a Launchkey or Launchkey Mini, and add high quality rotary controls with Launch Control.

They all work together to give you control over the Novation iPad apps – including the Launchpad iPad app and the Launchkey iPad app.
Launchpad Mini features
Compact Launchpad with the same powerful functionality as the Launchpad S.
64 three-colour Launch pads – play loops, samples, sounds, and also control effects on iPad, Mac or PC.
16 additional three-colour performance buttons.
Fully integrated with Novation's Launchpad app for iPad.
Effortless integration with Ableton Live, just like the celebrated Launchpad.
The same high level of integration with FL Studio 11 as Launchpad S.
Connects directly to your iPad with the Apple Camera Connection Kit (not included).
Tough, compact, trustworthy design.
Combine with the growing Novation Launch family of products for even broader integration with your music production software and apps.
Includes Ableton Live Lite for Mac or PC – plus Launchpad app for iPad.
The Launchpad Mini is scheduled for release in October 2013, priced at MSRP $124.99 USD / $99.99 USD at dealers.
Launch Control
The Launch Control is a robust, compact controller with 16 assignable knobs, eight three color launch pads, and four function keys – designed to be the perfect partner to Launchpad.
The perfect partner to Novation Launchpad, Launch Control works with all major music software – and with the iPad. Launch Control's three colour pads can be used to play loops and samples, while the knobs can tweak filters, effects, levels, panning, and more.

Launch Control is the perfect partner for Novation's Launchpad, the controller that changed the face of modern music performance with its grid of 64 multicoloured pads. To Launchpad, Launch Control adds 16 knobs, enabling you to transform performances and studio workflow – and another eight three colour launch pads.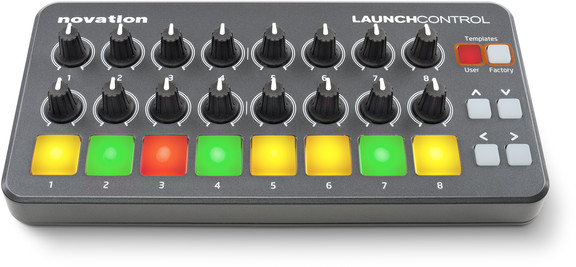 Launchpad Control features
Compact control surface with 16 knobs and eight three colour pads.
Perfect partner for Novation's Launchpad, Ableton Live and FL Studio – plug and play with the built-in mappings, create your own and MIDI-learn parameters.
Integrates perfectly with the Launchpad app for iPad – control volumes and filters with the knobs, and trigger FX and clips with the pads.
Tough, portable and bus-powered – even from an iPad.
448 controls using 16 on-board templates – eight factory templates and eight user templates to create and save your own control setups.
Comes with Ableton Live Lite – the music production software used by countless leading artists to produce and perform – and an extensive Loopmasters sample pack.
The Launch Control will be available in September 2013, priced at MSRP $124.99 USD / $99.99 USD at dealers.
More information: Novation