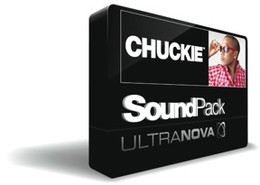 Novation has announced a free Chuckie Soundpack for its UltraNova synthesizer.
Part producer, part remixer, part DJ, Chuckie knows what makes a great track. With the help of Fabian Lenssen and Silvio Ecomo, two of Holland's A-list house producers, he's produced with this exclusive soundpack for UltraNova.

King of the Dirty Dutch sound and part of the international DJ fraternity, Chuckie first started playing at hip hop clubs in Amsterdam. Soon, he caught the electronic music bug and was playing at the house clubs too. His sound evolved from the culture he was immersed in and the music he was listening to, making it truly distinctive.
The Chuckie Soundpack for UltraNova is available as a free download.
More information: Novation / Chuckie Soundpack