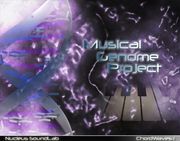 Nucleus SoundLab is offering a free copy of ChordWaves I, a sampleset from the Musical Genome Project.
ChordWaves I contains a variety of synth chords programmed on modular synthesizers – which are ideal as song-starters for all forms of electronica. They also make excellent atmospheric textures when run through appropriate effects.
ChordWaves I Wusikstation version features
Over 450mb (32-bit) of raw samples.
16 multi-samples comprised of nearly 150 waveforms.
100+ Wusikstation v3 presets by a variety of sound designers.
ChordWaves I Reason Refill features
The same samples as above, compressed into a 150mb Refill.
24 Custom Combinator Patches utilizing all eight realtime knobs and buttons.
16 NN-XT Patches.
You will have to subscribe to the Nucleus SoundLab newsletter to download the ChordWaves I soundset. If you are already subscribed you should receive a download link a the newsletter shortly.
Visit Nucleus SoundLab for more information and audio demos.