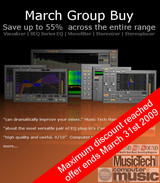 Nugen Audio has announced that its Group Buy has reached the maximum discount level of 55%.
This is as good as it gets – our Group buy just his maximum discount, guaranteeing you a massive 55% discount across the entire range!

As a result, you have less than 10 days to get in on this exclusive offer – don't miss out, our top quality mix and mastering software is only a couple of clicks away and it's never been as affordable. Quality isn't cheap, but for one week only, it's more attractive than ever.
As the maximum discount level has now been reached, you will be sent licence codes as with any usual purchase upon completion of your transaction.
Visit NuGen Audio for more information.