Numark has announced a host of new DJ products, to be presented at the PLASA 2008, the leading showcase for new technology within the entertainment, live event, corporate, architectural and installation industries worldwide.
ARC 3 – Scratch Mp3/CD Player


ARC 3 is an advanced tabletop CD player that plays standard CDs as well as MP3-CDs, enabling DJs to fit several hours' worth of music on a single disc. ARC 3 is easy to use with high-performance controls, including pitch and scratch.
ARC 3 features
Tabletop MP3 and CD player with scratch.
Large five-inch scratch wheel.
Seamless looping.
Dual loop-memory banks.
Pitch control: ±8% and ±16%.
Analog (RCA) and digital (S/PDIF) outputs.
Heavy, rugged construction for years of service.
HDMIX – Compact, Portable, Expandable DJ System


What do you enjoy about being a DJ? Is it the hours of moving heavy racks and cases, running cables, and testing levels, or actually playing the gig that makes DJing fun and exciting?
HDMIX gives you everything you need to DJ anywhere. Just add a pair of powered speakers or patch into the house PA, and HDMIX puts everything at your fingertips in a single, rugged console.
HDMIX features
Professional DJ mixer with CD and expandable playback options.
CD player plays CDs, MP3-CDs, and MP3-DVDs.
80GB hard drive is replaceable and upgradable up to 1TB.
High-definition color LCD screen.
Three input channels, each with with EQ and gain.
Two USB ports for connecting iPods, thumb drives, and hard drives.
Two mic, three line, and two phono inputs.
XLR master and RCA zone outputs;1/8″ and 1/4″ Headphone outputs.
Scratch with MP3, WAV, and AAC (unprotected) files.
Massively-wide pitch control -100% – +25%.
Key Lock lets you independently shift tempo and pitch.
Jog wheels for seamless looping, pitch control, and scratching.
Text search, letter-pick scrolling, and on-board playlist creation.
Track search by artist, album, song, genre, and BPM.
Create custom playlists while performing.
Keyboard included for fast searching.
Beatkeeper™ technology for auto-syncing loops and samples; TAP override.
Transfer tracks between HDMIX and your Mac or PC via USB.
NS7 – Motorized Computer DJ System With Audio I/O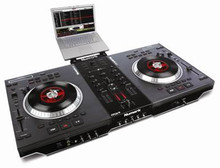 NS7 is turntable-software control without the skipping needles. It's vinyl and slipmats on adjustable-torque, motorized, aluminum turntable platters.
Designed by Numark in collaboration with world-renowned DJ software developer, Serato, NS7 comes with ITCH software and is compatible with Scratch LIVE crates, loops, and cue points.
NS7 features
Two seven-inch motorized, adjustable-torque, direct-drive turntable controls with vinyl.
24-bit USB 2.0 audio interface.
High-speed, precision-MIDI controls (compatible with any MIDI software and device).
Professional, replaceable CP-PRO crossfader.
Industrial-strength construction, all-metal housing.
Extensive looping, cueing, and track selection controls.
Assignable controls including eight rotaries, eight triggers.
Strip Search (patent pending) virtual-needle drop controls.
Audiophile-quality analog circuitry.
OMNI CONTROL – DJ Control Surface with Audio I/O and Software


OMNI CONTROL contains everything you need to plug into any club's house PA and perform. This high-quality, heavyweight, rugged DJ device is not only a hardware controller for performing with the included Native Instruments Traktor 3 LE and MixMeister Fusion Live software; it also houses a professional digital-audio interface to feed your headphones and the sound system.
OMNI CONTROL features
Complete professional computer-DJ package.
Hardware controller with built-in audio I/O.
Includes Native Instruments Traktor 3 LE and MixMeister Fusion Live software.
Heavyweight, sturdy feel.
Extremely clean, high-quality sound card.
Stiff, reliable knobs, faders, and buttons.
Includes: OMNI CONTROL control surface, Software CD, USB cable, Owners manual.
Total Computer DJ in a Box – Computer DJ System


Total Computer DJ in a Box is the perfect way to get started DJing today. The kit gives you everything you need to DJ using your computer.
Mix and scratch on Total Control, the scratch control surface designed expressly for computer DJs. DJ|iO gets audio into and out of your computer for connection to the PA system and for cueing with the included pro-grade HF125 headphones. Total DJ in a Box even comes with Traktor LE heavy-hitting DJ software from Native Instruments.
Total Computer DJ in a Box features
Complete DJ package for use with Mac or PC.
Total Control hardware control surface with 20 knobs, five faders, and 31 buttons.
Scratch wheels, crossfader, and EQ knobs all laid-out in DJ mixer format.
DJ|iO computer interface for getting audio into and out of your computer.
Two sets of RCA stereo outputs.
Microphone input with adjustable gain.
1/4-inch stereo headphone output.
High quality 24-bit, 44.1/88.2 kHz audio.
ASIO audio drivers with control panel.
Includes HF125 DJ headphones for accurate cueing.
Traktor LE DJ software.
Pre-mapped controls and overlays eliminate programming when used with CUE LE or Traktor LE.
USB-powered, no wall power needed for portability.
Plug-and-play USB, no driver-installation needed.
Includes: Total Control USB hardware control surface, DJ|iO USB audio interface, HF125 DJ headphones, Software CD, Two USB cables.
Visit Numark for more information.