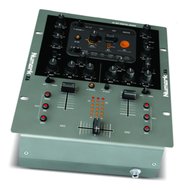 Numark has announced three new lines of DJ mixers, available in 10-inch tabletop, compact tabletop, and 19-inch rack-mount formats.
Each series includes mixers incorporating technologies and functionalities introduced by Numark, including the world's first multi-channel DJ mixer with balanced outputs, the first tabletop three-channel mixer with EQ on each channel, the first 100% digital DJ mixer, and the first DJ mixer with USB input and output connectivity.
New lines of DJ mixers
C-series – 19-inch rack-mount mixers, features multi-channel input sections with phono, line, and microphone inputs, multiple outputs, and sizing to fit standard 19-inch equipment racks. Models include C1, C2, C3, C3FX and C3USB, providing clubs a wide variety of feature sets from which to select their ideal mixer.
M-series – tabletop mixers, includes compact and full-sized 10-inch tabletop DJ scratch mixers. Multiple channels including phono, line and microphone inputs and a range of options for EQ, frequency kills, and transform buttons are available to provide mixers to suit the individual's needs. Models include M1, M1USB, M2, M3 and M4. High sound quality, rugged durability and continual advancement of the tools for the art of DJing are hallmarks of the Numark M-series of tabletop mixers.
X-series – DJ scratch mixers, build on the power and versatility of the M-series, incorporating a pro-grade 100% digital signal path and signal processing technology from Alesis to provide incomparably low noise, low harmonic distortion, and the utmost fidelity. Models include X1USB, X6 and X9, each with a full compliment of DJ-friendly features and capabilities.
The all-new mixer models will all be on-shelf at retailers within Q3-2008.
Visit Numark for more information.