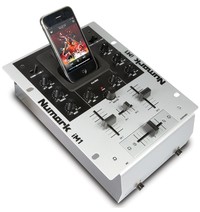 Numark has introduced the iM1, a professional 2-channel DJ mixer with dock for iPod.
Numark's iM1 packs a wide variety of input types into a compact package. You can plug in turntables, CD players, line-level music sources and a microphone to the iM1, which also includes a dock for iPod that allows you to play from, or record to, an iPod. Set the levels with trim and line faders, and tailor the high and low frequencies with the rotary EQs on each channel. Cue up tracks using the mini-crossfader and headphone output, and then perform the mix through the master outputs with the smooth, replaceable crossfader. Quickly create professional-quality mix-tapes to pass off to clubs and fans by recording your DJ performances directly to an iPod within the built-in dock. M1 has all the features you need to get maximum performance out of minimum space.
iM1 features
Two-channel compact-tabletop mixer with built-in iPod dock.
Record DJ performances directly to iPod.
Mix music from turntables, CD players, line-level audio and iPod.
Rotary EQ and gain on each channel.
Smooth, replaceable crossfader for mixing master output.
Mini-crossfader for mixing headphone output.
2 RCA phono inputs, 2 RCA line inputs, 1/4″ microphone input.
Master RCA stereo output, 1/4″ stereo headphone output.