Numerical Audio has released an update to its RE-1 Tape Machine app, a full featured, modern tape machine inspired by the most iconic tape echos of the 20th century.
The update includes drag & drop support for samples/loops, sample export volume adjustments and crossfades, and a new "info mode" that shows a short description for each control.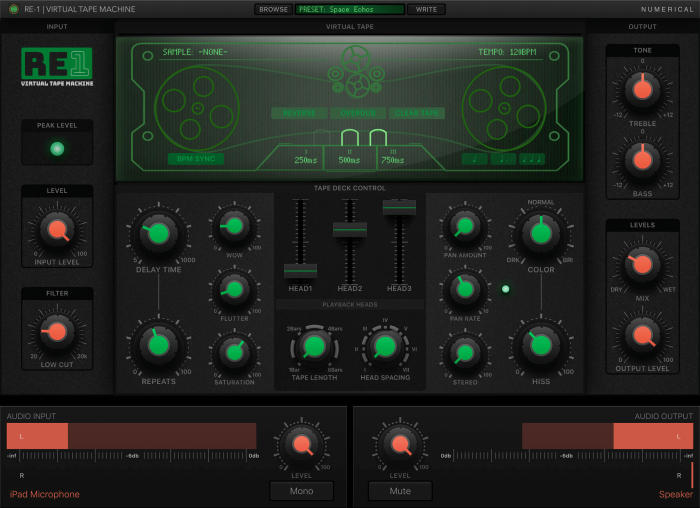 Combining vintage sound and modern features, RE-1 is a true powerhouse capable of everything from classic tape echo and chorus effects over tape flavoured sample playback, recording & looping to tape based master effects.
Changes in RE-1 v1.1
Universal: added iPhone support.
UI: Added "What's new" dialogue.
UI: Added Sample export dialoge with options for applying a crossfade at the loop point and adjusting sample volume before writing it to disk.
UI: added info mode – when enabled, tapping any control will bring up a description of it's function as well as suggestions on how to use it.
Optimizations: improved drawing performance.
Optimizations: decreased install size.
Samples: added support for drag n drop import (works in Standalone and AU, samples are shared between the two).
Looping: When overdub is engaded, feedback only affects output from the second and third playback heads (this change was made to avoiding high pitched artifacts caused by modulating a delay time of 0hz).
Fixed an issue where importing .wav files using uncommon format headers would crash the app or create static.
Fixed an issue where "link transport" and "time-stretch" buttons would not toggle properly.
Fixed an issue where restoring an ApeMatrix session with RE-1 inside would crash the plugin.
Fixed an issue where using wireless headphones would result in low quality mono audio.
Fixed an issue where changing the host tempo would cause time-streching to be calculated based on the previous, not the updated tempo.
Fixed an issue where loading the app in Garagageband would cause a crash (only relates to IAA, not AUv3).
Fixed an issue where time-stretching would only be applied to samples loaded from audio files but not live recordings.
Fixed an issue where the right channel would behave differnetly from the left when applyin feedback in overdub mode.
RE-1 is available from the App Store for $9.99 USD. The update is free for existing RE-1 users.
More information: Numerical Audio