NUSofting has released version 2.0 of EMM Knagalis, an ethnic instrument sample player for Windows and Mac.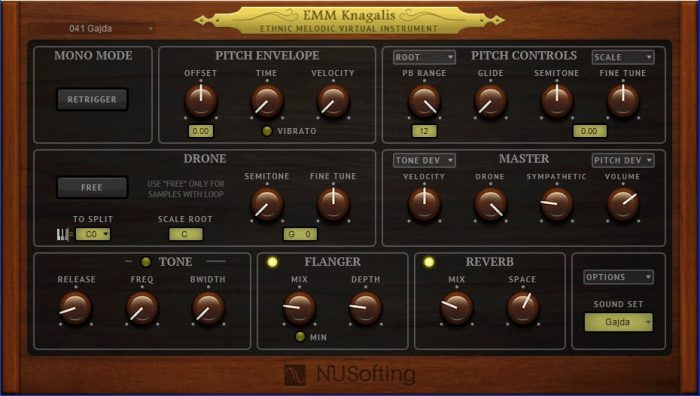 EMM Knagalis is a specialized and multi featured plugin sample player, modeled around the structural elements of Sitar, the famous Indian lute. But its sound set also includes many other ethnic instruments from the world stage. Instruments like Turkish Lute, Mbira (thumb piano), Santur, Shamishen, many cool bagpipes, Aulos, HurdyGurdy and flutes.
Changes in EMM Knagalis v2.0
Larger GUI.
New 3D graphics.
Improved functional layout.
New release curve.
Better velocity response.
New sync mode for Drone layer, now works better for bagpipes.
Various small bugs fixed, including display and menu updates.
Three new instruments added to the library.
Redesigned presets.
Possibility to choose the path to the samples data on Windows.
Increased compatibility with latest Mac and Windows operating systems.
Fixed bugs with Garageband and Logic.
EMM Knagalis for Windows and Mac (VST/AU) is available for purchase for $48 USD. Owners of Knagalis 1.x can upgrade for $9 USD.
More information: NUSofting / EMM Knagalis