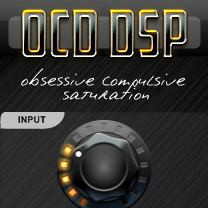 OCD DSP has released OCS (Obsessive compulsive saturation), a free saturator effect plug-in for Windows.
OCS is a saturation unit inspired by the analogue behavior. It can be used as a console saturation unit but it can have a more sporadic approach as well.

By maximizing the input and minimizing the output you can drive the unit at its full capacity, the gain increase auto compensates when you use them like that.

For a mild console like usage, use a gain trim plugin by decreasing the input before the plugin and a trim to compensate the gain after the plugin. (-5 dBs on the trim before would work great for that effect/+5 on after plugin to compensate*)
OCS is available to download as a freeware VST plug-in (32bit) for Windows.
More information: OCD DSP