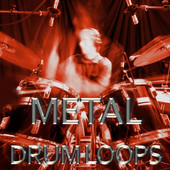 OddGrooves has released the Shredder Pack, a collection of metal drum loops.
The Shredder Pack was produced with the intention of bringing professionally recorded heavy drum loops to all shredders in need of a great drummer.

There's no need to mike the kit up, no messing with acoustics and above all no need to hire a session drummer – simply load your favorite drum sampler in your DAW, preview the loop and drag it into your arrangement. Done in 30 seconds!
The Shredder Pack features
282 metal drum loops recorded live by professional session drummer Magnus Brandell.
4, 8 and 16 bar grooves with additional shorter fills.
It probably goes without saying, but none of the grooves have been quantized. They are natural, raw, breathing, live drum performances that fit right into the pocket without ever sounding stiff.
MIDI format arranged for Toontrack EZdrummer/Superior Drummer, XLN Audio Addictive Drums, Steven Slate Drums, Sonic Reality I-Map and General MIDI.
Tomtom grooves, over-the-bar fills, backbeats, hihat and ride variations, half tempo grooves.
11 full songs recorded at different tempos and in different styles.
Mostly 4/4 but there are also some odd meter grooves.
Lots of double bass drum action.
The Shredder Pack is available to purchase for $27 USD (plus VAT for EU citizens). A collection of free Shredder Pack loops is available here.
More information: OddGrooves / Shredder Pack