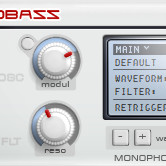 Tek'it Audio has released version 1.2.1 of Genobazz, a free monophonic bass synthesizer plug-in for Windows.
Genobazz 1.2.1 has extended features and some bugs fixed. The most exciting feature is the "Randomize" function, you can move the knobs randomly, but now also the switches and controls of the screen. You can leave the chance create totally random patches.
Changes in Genobazz v1.2.1
Random on switch and screen parameters added.
Now undo changes on all parameters.
Reduced CPU on SV filter when "Reso" is modulated.
"Modul" knob default CC changed from 77 to 1 Mod wheel.
Bug in Cubase on specific configuration resolved.
GUI bigger clickable zone on the screen.
GUI left click for patch manager popup added.
GUI some visual improvements on the screen.
GUI some Hint texts changed.
Setup added Dutch and Japanese language.
Genobazz for Windows PC (VST) is available to download as freeware.
More information: Tek'it Audio / Genobazz