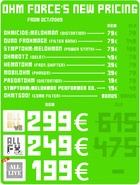 Ohm Force has announced it has reduced the prices of its plug-ins and bundles.
When we say dropping prices, we really mean it: not only the plugin's licenses are globally MUCH more affordable when purchased individually, the big ALL-ALL Bundle can now be grabbed by only 299€.

By the way, we've benefited from the moment to tide up our bundle's section and now live performers can choose the ALL-Live Bundle, containing the plugins from which features are specially suitable for live tweaking: Ohmicide:Melohman, Symptohm:Melohman and the Quad Frohmage – the three for only 199€.

The first two, as the Melohman part of the name suggests, have extended preset morphing capabilities: it's possible to morph from one preset on the fly to another using a midi keyboard controller, with a full set of configurable parameters. The latter is one of the most powerful and tweakable filter banks out there, with an advanced XADSR module, 6 midi controlled envelope followers, 6 event generators, among many other killer features.