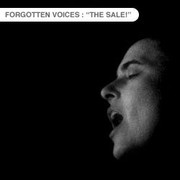 Tonehammer has announced Forgotten Voices : "THE SALE", a limited time offer on the Forgotten Voices sample libraries.
We are thrilled, proud and excited to celebrate something with you. The prestigious Sound On Sound Magazine recently rated our Forgotten Voices: Francesca Library with a perfect 5/5 review in the November 2009 issue.

Quote: "… Tonehammer are building a strong reputation for beautifully recorded and inventive sample libraries … Francesca is a haunting alto voice and the phrase-sculpting features make this a unique, flexible and spiritual-sounding library that's also superb value for money. Just listen to Tonehammer's demos, and see if you fall in love as I did! …" Source: Sound on Sound

So to party, party, party the great reception Francesca and our other vocal libraries have received, we're pleased to announce our first ever sale!
All Forgotten Voices libraries combined are available for purchase for $179 USD (40% off) until October 31, 2009. The separate Forgotten Voices libraries are $79 USD each (20% off).
Forgotten Voices Barbary and Forgotten Voices Cait have also received updates:
Significant improvements to the playability and flexibility of both libraries, with refinied time-stretching and sample-offset control, more responsive velocity-based tone/volume attenuation and the addition of the new key-switch based pitch control system. This system allows you two raise or lower the root pitch of all phrases in any given instrument patch by up to +/- 3 semitones, providing much more flexibility and easier integration into a wider range of compositions.
All Steven Tavaglione bonus ambient instruments included in the three vocal libraries are now supported in Kontakt 2.2.4 and you now have access to individual .nki instrument patches for greater control and flexibility.
Logic EXS24 support is now standard for most of the core vocal and ambience patches in all three vocal libraries. Be aware that the .exs versions don't feature sample-offset control or time-stretching, and aren't quite as full-featured or finely tuned as the Kontakt patches.
Existing Cait and Barbary owners may update these libraries to enjoy all of the new features and improvements.
More information: Tonehammer