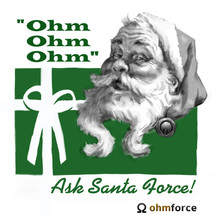 Ohm Force has announced its Christmas offers, an opportunity to get 30% off all Ohm Force software, offer one / get one, and/or save 50% on offering software you already own.
Did you know that not only does Santa Force exist but that he works at Ohm Force? It's true. When the little kids choir "Santa Force, do you have any offer on Ohm thingies for us?" he just laughs then runs away to have a beer because Santa Force isn't a kid's Santa, he's a musician's Santa.

So why not offer (or just buy) those shiny audio monsters from the world famous Ohm Force Audio Warfare Arsenal™ or Ohm Studio stuff at bargain prices? Now is your chance!
The sale ends December 25th, 2012.
More information: Ohm Force / Christmas offers