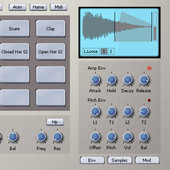 One Small Clue has released version 1.0.69 of Poise, a virtual percussion instrument for Windows.
Direct, straightforward, no frills and no bloat! Poise makes working with drum samples quick and effortless, allowing you to focus on creating music.
Changes in Poise v1.0.69
Bug Fix: Poise would leak memory when loading older binary format kits with embedded sample data.
Bug Fix: MIDI input was incorrectly processed and could cause a crash if multiple MIDI events were received with identical deltaframe values.
Bug Fix: The sample display was not updated after the "New Drum Kit" command. This could lead to a crash.
Bug Fix: Poise would crash during the initialization stage if unable to find the windows application data folder. (Due to an unhandled exception.)
Ubuntu & Wine: Browser and drum kit menu items should now be ordered alphabetically.
Drum pads could click when triggered with the mouse. (Amplitude envelope release time was too short.)
Exported drum pads now reference sample files instead of storing sample data in the drum pad file. (Monolithic drum pad files are problematic when saving modified drum kits.)
Exported drum pad data is now saved using XML instead of a custom binary format.
Improved relative path support when saving drum kits and drum pads. Previously samples could only be saved with a relative path if they were in a directory below the location of the drum kit file. Now drum kits can be saved using fully relative paths for sample files. This will help with drum kit creation for 3rd party sample libraries.
Poise for Windows is available to purchase for $49 USD.
More information: One Small Clue