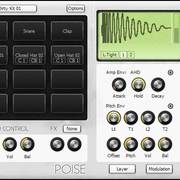 One Small Clue has released version 1.0.78 of Poise, a percussion sampler instrument plug-in for Windows.
Poise makes working with drum samples quick and effortless, allowing you to focus on creating music.
Changes in Poise v1.0.78
New: Drag & Drop Export Render feature. [Ctrl]+[Alt]+[Drag & Drop] Drum Pad will export an automatically rendered version of the drum pad.
New: Geist Kit format support added.
New: "Render Pad To Disk" and "Save Render Only" commands.
New: Load Previous / Next Sample hot keys. [B / N]
The parameter scaling for the ADSR amplitude envelope was very poor in the lower ranges. This has been improved.
When attempting to edit sample files that only existed in RAM, Poise would fail silently. Now Poise will give the option to save the sample file to disk, then open the sample editor.
Bug Fix: The ADSR amplitude envelope didn't work correctly with very small decay times.
Bug Fix: Auto-select pads was temporairly disabled after selecting "edit sample with…" command
Bug Fix: Poise would occasionally crash when changing drum kits.
Bug Fix: Rendered sample volume levels are now consistent when "velocity to amplitude" modulation amounts are less then 100%.
Bug Fix: GUI resizing in Sonar should now work.
Bug Fix: GUI resizing in Cubase 5.5.3 now works correctly.
Bug fix: Hang-on-exit bug has been fixed. This bug would only show on some machines. It was related to improper thread handling when previewing samples in the browser.
Bug Fix: when loading more then 8 samples, an error dialog shows. This shouldn't happen.
Bug Fix: Individual sample layers are now only selected by MIDI when the host sequencer is stopped. (Previously automatic drum pad selection was surpressed, but individual sample layers were still selected.
Poise for Windows (VST) is available to purchase for $49 USD.
More information: One Small Clue / Poise