Open Labs has introduced the Timbaland Special Edition MiKo keyboard workcenter.
From the product page:
Building on the standard features of the MiKo LX, an all-in-one portable studio powered by Windows™ XP that is capable of running virtually any Windows XP compatible software including a variety of DAW software, virtual instruments (VSTi), virtual effects (VST) and other music applications, the Timbaland Special Edition takes this robust instrument to an entirely new level of performance and creativity.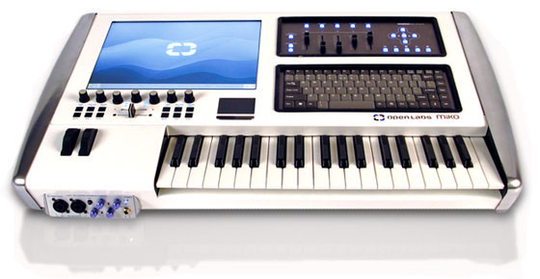 The Timbaland Special Edition MiKo upgraded to 4GB of RAM features E-MU™'s new Proteus™ X2 Streaming Sound Module V2.5 with over 7,000 instruments, including the new Ensoniq™ Urban Legends™ Sound Library that contains the sounds from Ensoniq's ASR™/EPS™/MR™/ASR-X™/ZR™ instruments. These sounds were specifically requested by Timbaland, and are only available in the Timbaland MiKo, an Open Labs exclusive.
Timbaland says:
I've made the new Timbaland Special Edition MiKo with Tim's Touch. It's got everything I need in a single box and when I use it, we make masterpieces.
The Timbaland Special Edition MiKo will start shipping on August 15, 2007. The estimated street price is: $3,899.
Visit Open Labs for more information about the specs.