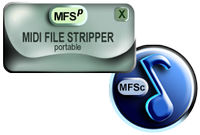 Optomadic has released Midi File Stripper (MFS), a free tool for quickly and effortlessly removing all non MIDI note data.
Its pretty self explanatory. You have MIDI files with a bunch of CC, Tempo, NRPN and other junk data. These files may cause issues if you drag them into hosts or export them to hardware. So, you use MFS to filter out the files. Now you have pure MIDI note files that will play pefectly in any host and hardware.
Midi File Stripper (MFS) features
MFSc

installs onto your computer and uses a 'right click file' context menu command. It only can process 1 file at a time.

MFSp

is a portable version that runs from removable media such as USB thumb drives, shared network folders optical media. It also supports multiple files dragged to the GUI or to the executable.
MFS is available to download as freeware for Windows PC.
More information: Midi File Stripper