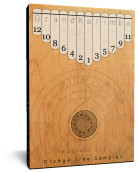 Orange Tree Samples has announced the release of Grand Kalimba, a kalimba sample library for Kontakt.
Orange Tree Samples' latest Kontakt release, Grand Kalimba is everything its name implies. It has three octaves of tines, giving you a large note range—most kalimbas have between 11 and 17 tines, but the Grand Kalimba has 37!

Behind the meticulously sampled kalimba is a powerful Kontakt interface, giving you complete control over the tone and performance of the instrument. The interface includes controls for microtonal composing, by allowing you to fine-tune the individual tines. You can even switch between a piano-style note layout and a kalimba note layout. You can also enable a double-tracked kalimba tone with a single button.
Grand Kalimba features
880 MB of over 2,000 kalimba samples.
8x round-robin alternating samples.
3 velocity layers.
Sampled chromatically.
Tine mutes, including buzzing mutes.
Powerful interface giving you control over the tone and playability.
Grand Kalimba is available as a direct download for an introductory price of $29.95 USD (normally $39.95 USD) until September 25, 2009.
More information: Orange Tree Samples / Grand Kalimba