Orange Tree Samples has announced the release of its new Kontakt Player power instrument library The Famous E Electric Piano, featuring the sounds of the "E" electric piano from Leeds Musical Instrument Rentals.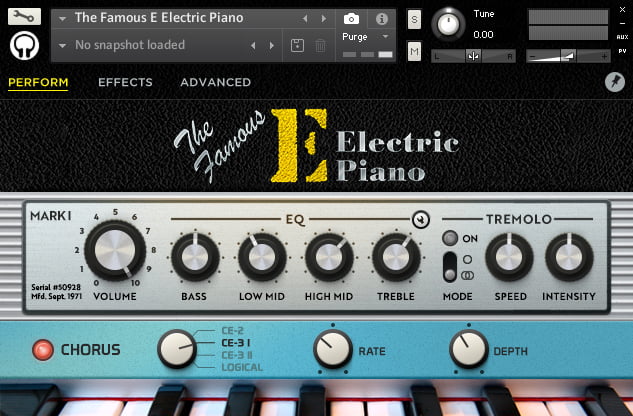 Previously never sampled before, the "E" electric piano was particularly in demand in the LA studio scene in the 80s. It has been featured in many hit songs and albums.
Determined to share its beautiful, pristine tone, George Mamalakis, the owner of the "E" electric piano, began sampling it. As a seasoned Jazz pianist who actively uses virtual instruments in his performance setup, George Mamalakis is well-acquainted with the depth of sampling necessary to recreate the dynamic, nuanced sound of the "E". Beginning in 2015, with the guidance of Jay Graydon, Grammy award winning producer, recording engineer, composer, and recording artist, George began the long undertaking of meticulously sampling the "E" electric piano. To assist in the process, George invented a mechanical device which he named VERA, which is able to mimic the human motion of striking each key, but at very precise dynamics. Each key was sampled with 18 velocity layers, with each note's natural decay into complete silence.

Since 2017, Orange Tree Samples has been working with George and Jay to produce the playable instrument using the Kontakt platform. Orange Tree Samples is known for their innovative scripting in sample libraries, and this library is no exception. We added a lot of exciting options to customize the tone of the electric piano, including a detailed model of the instrument's built-in tremolo, several chorus models that use custom DSP, and a flexible modular effects rack.
The Famous E Electric Piano features
Over 1,300 samples recorded at 96khz, 24-bit, totaling 7.0 GB (compressed to 3.26 GB using Kontakt's lossless NCW format).
Over 70 production-ready factory presets created by Jay Graydon, George Mamalakis, Greg Schlaepfer, and Chris Poehler.
Chorus and tremolo using custom DSP.
Modular effects system with EQ, phaser, delay, algorithmic reverb, IR-based reverb, and more. The IR-based reverb features four legendary reverb units, totaling over 500 reverb presets.
Smart tremolo attack ensures that the tremolo starts at its strongest point, giving you clear note attacks.
The library is on sale for the intro price of $159 USD until July 24th, 2020. The regular price is $179 USD.
More information: Orange Tree Samples