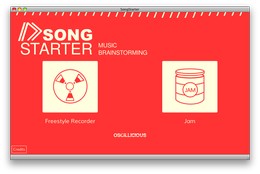 Oscillicious Audio Labs has announced the immediate availability of SongStarter, a new software tool for rapid music prototyping and brainstorming. A free public beta is available for a limited time for Windows, Mac OS X, and Google Chrome.
SongStarter is a music brainstorming tool for quick composition and iteration using a live looping workflow. Designed to minimize setup time, SongStarter makes it easy to capture new ideas quickly or have spontaneous jams. Using the built-in instruments, musicians can quickly record melodies with the 32-beat live looper and layer them as musical ideas. To finish a jam, these melodies can be dragged and dropped directly into a DAW as MIDI files via the Instant Export feature, so musicians can continue arranging and producing with their existing workflows.

For quick setup, SongStarter includes 21 built-in instruments spanning a range of styles. The Jam Essentials collection features charming sampled instruments like the Dusty Piano. The built-in SodaSynth collection produces pristine, classic sounds from the flagship Oscillicious synthesizer engine. Lastly, the Analog Extracts collection provides quirky synth sounds sampled from a legendary analog modular synthesizer.

Also included in SongStarter is the Freestyle Recorder, a hands-free MIDI recorder with an alternative workflow for kickstarting jams. The Freestyle Recorder allows musicians to easily create seamless loops without worrying about manual chopping, and can instantly drop a beat over a recorded loop.
SongStarter features
32-beat live looper with overdubbing.
14 built-in drum beats from producer Carlo Carosi spanning a range of styles.
9 Jam Essentials Sampled Instruments.
7 SodaSynth Presets.
5 Analog Extracts Sampled Sounds.
Metronome.
Freestyle Recorder – Non-stop, automatic recording.
Instant Export: Drag and drop MIDI to any DAW that supports it.
Share to SoundCloud: Upload directly to your SoundCloud account.
The SongStarter beta is available as a free download for a limited time.
SongStarter can also be preordered during beta for $40 USD/35 EUR/£30 GBP from the SongStarter Preorder page. For a limited time, customers who preorder SongStarter will receive a free copy of BeatCleaver when it ships.
More information: Oscillicious / SongStarter