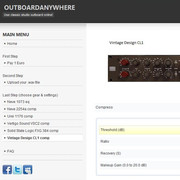 Outboardanywhere.com has announced the launch of the game-changing service Outboardanywhere, where music creators can use classic studio outboard online.
"The missing link between DAW music creators and the analog outboard world" remarked lead developer and founder of Outboardanywhere, Fredrik Carno.

"Additionally, the low cost per use makes it within everyones reach to benefit from the sound classic studio outboard"

Outboardanywhere's uniquely developed uniform outboard automation system combined with a web file transfer function lets music creators hear and compare the sound of ITB to the OTB sound themselves.
Outboardanywhere is now open for new account registrations at a starting price of 1 Euro/use.
Visit Outboardanywhere for more information.