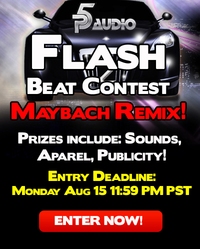 P5Audio has announced the Flash Beat Contest Maybach Edition, a 5 day beat competition to produce your hottest "Maybach style Beat".
The Challenge: Using the Loops provided in the FREE sounds zip file provided below, which include a Loop Set from Hood Runnas Maybach Edition volume 1 and Hood Runnas Maybach volume 2 PLUS the free sounds from Hood Runnas RnB, create a hot remix! We want a HOT Maybach style Beat.

Our favorite track will win:

$100 in FREE P5Audio Sounds!
A Blog Post about the Winning Music Producer on the P5Audio Blog.
Followers on Twitter and Facebook will get a bonus prize.
Contest deadline is Monday August 15, 2011 11:59PM PST.
More information: P5Audio / Flash Beat Contest Hip Hop Remix Maybach