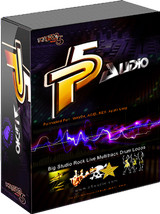 P5Audio has announced the release of Big Studio Rock, a collection of live multi-track drum loop sets.
P5Audio is bringing in the Big Rock Guns with Big Studio Rock Live Multitrack Drum Loop Sets! Add live drums to your tracks with these seriously ROCKIN Drums. Tempos range from 75 to 200! All tracks recorded by Darren L. Elpant at Eggplant Studios among who's credits include Ne-yo.

This Series comes in Two Volumes and a Producers Pack.
Big Studio Rock features
The Producers Pack contains 147 Multitrack Drum Loop Sets with nearly 1300 individual loops total.
All of the live drum parts are seperated. Drum parts include Kick, Snare Tom 1, and 2, Stereo Overhead, Stereo Room, and Stereo Reverb.
This series features both modern and vintage drums and class A mic preamps including Neve, and SSL! This is a truly professional sound.
In the styles of bands including Linkin Park, Kings of Leon, Incubus, Greenday, Queens of the Stoneage, Foo Fighters and much more..
All Loop sets are formatted in Intro, Verse, Bridge, Chrous and ending and include numerous fills.
The organization and quality of these loops takes away all of the tedious parts of using drum loops and makes it fun to produce.
All tempos are provided in these Royalty FREE loops.
This product contains slammin' DRUM SOUNDS ONLY. No other instruments are provided.
Big Studio Rock is available to purchase in two volumes at $39.99 and $44.99 USD, or bundled in the Producers Pack for $69.99 USD.
More information: P5Audio