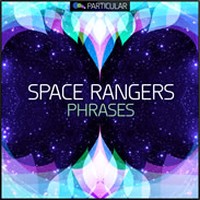 Particular Audio has launched Space Rangers – Phrases, a collection of analogue and digital loops of swirling melodic phrases, crunchy glitches and collapsing harmonics.
Created as a fusion between psychedelic electronica, ambient space music and glitchy IDM, the Phrases sub-package in the Space Rangers series is the farthest reaching into the concept – as much as possible devoid of any restrictions in terms of staying within a style. As with the earlier packs, the sound designer crew at Particular forged sequences of sounds from various analogue and digital modular systems, passed them through a setup of high quality outboard processors, and fed them back in again through yet another series of digital effect processors – creating endless variations with the twist of a knob. But this time nothing was forbidden. The weirder the better!

All loops are made for recombination, so layer and connect textures together to create new textures and call – response patterns. The length of the loops vary depending on the variation and motion in the sound, so cut, slice, realign and reassemble to meet your songs requirements. Swing, lag, push or any timing inherent, as well as pitch or chord, are yours to to manipulate and abuse.

In detail expect to find 172 phrase loops between 80 and 130 bpm. All in all 437 MB of 48 kHz 24 bit wavefiles.
The sample pack costs £19.95 GBP.
More information: Particular / Space Rangers – Phrases