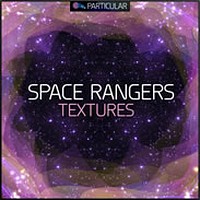 Particular has released Space Rangers – Textures, a collection of 140+ textural loops.
Particular rocket into space with Space Rangers – Textures: purely electronic texture loops brimming with analogue and digital goodness, tasty ultra vivid colorings and animate motion. Whether you produce any style of house, techno or chillout tracks, Space Rangers will provide you with spectacular textural backdrops to your productions and kickstart your creativity into orbit.

Created as a fusion between psychedelic electronica, ambient space music and glitchy EDM, the sound designer crew at Particular forged textures of sounds from various analogue and digital modular systems, passed them through a setup of high quality outboard processors, and fed them back in again through yet another series of digital effect processors – creating endless variations with the twist of a knob.

All loops are made for recombination, so layer and connect textures together to create new textures and call – response patterns. The length of the loops vary depending on the variation and motion in the sound, so cut, slice, realign and reassemble to meet your songs requirements. Swing, lag, push or any timing inherent, as well as pitch or chord, are yours to to manipulate and abuse.
The sample pack costs £19.95 GBP.
More information: Particular Audio / Space Rangers – Textures