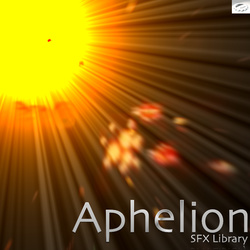 Particular Sound has announced the release of Aphelion, a new library featuring 760 sound fx samples.
Aphelion is a SFX Library with tons of new sound effects made for cinematic trailer, videos, movies, computer games or music productions like Drum'n'Bass, Dubstep or similar genres. It features new samples made by our own crew processed through modern effects recorded in 96kHz 24bit WAV.

As a bonus, there are 2 folders called processed samples and rhythmic loops. The samples in processed samples are ready to use samples which were processed with effects, use them as they're. Rhythmic loops is a folder with 2, 4, 8 or 16 beat long loops from 080 to 120 bpm using percussive elements and effects.

Aphelion is our debut Sound FX library, after working years in the music business making factory sounds for a major list of companies like Yamaha Europe, Waldorf Music, reFX, LinPlug, Sugar Bytes, Ableton AG, Fabfilter, MOTU and many, many more, we started back in 2013 to make sfx for a PC game we worked on, we decided to make the sfx library available for everyone.
The sample pack is available for purchase for $59 USD.
More information: Particular Sound / Aphelion