Xenakios has released an updated version of the PaulXStretch effect plugin for extreme time stretching and other spectral processing of audio.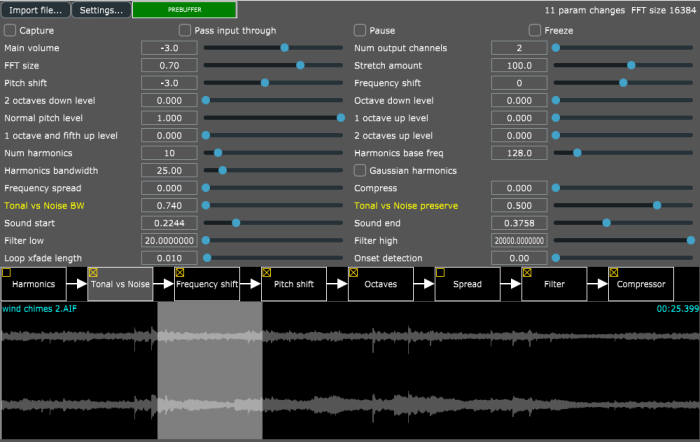 The plugin is only suitable for radical transformation of sounds. It is not suitable at all for subtle time corrections and such. Ambient music and sound design are probably the most suitable use cases.
Changes in PaulXStretch v1.0.2
Added stretch processing bypass parameter (to play the original sound looped like it is passed into the stretcher).
Show approximate stretched output duration in info label (only valid if the stretch amount is not automated in the host).
Waveform selection can be moved by dragging the selection top area.
Smoothed playback with fades when changing waveform selection (doesn't work ideally, fixing later…).
Fixes for the waveform graphics disappearing unexpectedly (this probably still isn't entirely fixed, though).
Increased maximum number of input channels to 8 (v1.0.1).
Added zoom/scroll bar for waveform (v1.0.1).
GUI performance improvement/bug fix during capture mode (v1.0.1).
Shorter crossfade length when changing FFT size (v1.0.1).
PaulXStretch is a free download for Windows and Mac (VST/AU).
More information: Xenakios