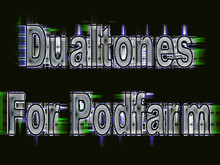 Perimeter Sound has released Tone Set #6 Dualtones, a new Tone Set for Line 6's Pod Farm software (makes use of the dual tone layering feature).
Each of the 128 presets (categorized into styles – Alternative, Blues, Clean, and Metal) is actually 2 patches, blended together for create a more textural and spacious sound. The Dualtones set was made with maximum usability in mind, this is not a bunch of sounds just slapped together and panned hard left & right, these are carefully made patches that don't purposely sound like 2 different tones in most cases, but mix together for a more natural playing experience.
Tone Set #6 Dualtones is available for $20 USD (only requires the basic POD Farm software, no additional packs of upgrades). A free demo preset pack with 16 dualtone patches is available for download from to product page.
Visit Perimeter Sound for more information.