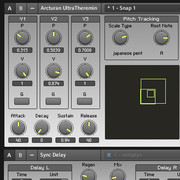 Peter Dines has released the Arcturan UltraTheremin, a free download for Reaktor and Konkreet Performer.
I built this as a learning project to figure out how to map Konkreet Performer's nodes to voices in Reaktor. If you're interested, you can download here – you'll need an iPad and Konkreet Performer to really make use of it. (It also works with TouchOSC – layout included in download – if you don't mind a slightly less freakish playing experience)

Here's how it works – set Konkreet up with three nodes and a ribbon. The three nodes control pitch and intensity. Angle from left to right is mapped to pitch, and proximity to the center node controls vibrato depth, rate and filter resonance. As pitch increases, the filter cutoff and pulsewidth also change.
Arcturan UltraTheremin is available to download at no cost.
Visit Modulations for more information.