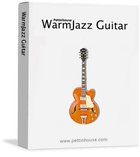 Pettinhouse has announced WarmJazz Guitar, a hollow-body electric guitar sample library for Kontakt.
WarmJazz guitar is the first hollow-body electric guitar sample library dedicated to Jazz direct recorded for amp simulator for NI Kontakt 2.
WarmJazz Guitar features
The sound of the neck humbucker pick-up: wonderfully rich, woody, punchy, clean with a slightly mellow sound.
20 key switches, Palm mute, pick style, thumb style. Release notes, fret noises, hand noises, pick noises, strum noises.
24Bit 96Khz, full sustain, natural decay (no loops), 4 velocity layers, round robin for alternate picking.
WarmJazz Guitar will be available next week for download at $129 USD + DirectBass lite included in the price. You can pre-order your copy now for only $109 USD.
Visit Pettinhouse for more information and audio demos.