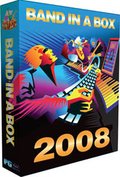 PG Music has released Band-in-a-Box 2008, the latest version of this intelligent automatic accompaniment software application.
New in Band-in-a-Box 2008:
RealTracks, three additional "Real" instruments, including Real Pedal Steel, Real Acoustic Guitar, and Tenor Sax soloing (RealSax).
MultiStyles, styles that can have anywhere from 4 to 24 substyles.
Section Paragraphs, whenever a new section occurs (a part marker), Band-in-a-Box starts the new section on a new line, and draws a grey line above to clearly mark the new section.
Medley Maker, simply select the songs that you want, and Band-in-a-Box will make the medley for you.
Find File, find a Band-in-a-Box song (or any file that BB can open), including filtering by words found in file name or any text in the file.
Change of Key Signature at any Bar.
Import Song.
Karaoke MP3/CDG Files.
Enhancements: Audio Chord Wizard, GUI, RealDrums, StylePicker, StyleMaker, Style Wizard, Notation Window and more…
Band-in-a-Box is available for Windows PC and Mac. Prices start at $129 USD for the Pro version.
Visit PG Music for more information and a link to download a demo of Band-in-a-Box 2008.