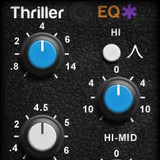 Phoenixinflight has released version 1.3 of ThrillerEQ, a free equalizer effect plug-in for Windows.
ThrillerEQ is a VST Plugin based on the GREAT RIVER HARRISON 32 EQ Equalizer. These equalizers were used in Harrison 32 Consoles, on which countless hit records were produced, including Abba, Queen and Michael Jackson. It was used by Bruce Swedien in the recording and mixing of Michael Jackson's Thriller, the best-selling album of all time! Since ThrillerEQ does not exactly reproduces every detail of its hardware counterpart (non-linearities, harmonics etc.), it is not an exact emulation. However, this plugin features EQ parameters which are very close to the original device.
Changes in ThrillerEQ v1.3
Switchable filter characteristics on the high and low ranges (shelving or peaking).
Additional output section includes a level control knob, a brickwall limiter and a phase inversion switch.
ThrillerEQ Classic, an alternate version without output section, is also included.
New set of presets.
CPU performance has been improved.
ThrillerEQ is available to download as a freeware VST effect plug-in for Windows PC.
More information: Phoenixinflight