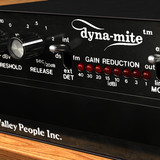 Softube has released the Valley People Dyna-mite plug-in, a faithful replica of the Valley People Dyna-Mite, a multi-dynamics tool capable of limiting/ compressing, expanding, gating, keying, ducking, de-essing, etc.
In our opinion, the Dyna-mite is just about the coolest dynamics processor there is. The typical use is to squash drums (hard limiting), add some punch to the drums or bass (limiting in AVG mode), or gate drums and get some really punchy effects. You can of course use it for de-essing, ducking, keying, noise gating as well, and you will probably notice that once you get your head around it, you'll be able to use it on just about anything!
Valley People Dyna-mite Plug-In features
Limiting: Peak and average limiting, incl. negative ratio (-20:1) limiting and detector HF filtering (for De-Essing purposes).
Expanding: Hard or soft with extreme gate settings and detector HF filtering.
Ducking or Keying modes with external side chain (where available).
Threshold knob with auto make-up gain.
Release ranging from 0.05 to 5 sec/20 dB with Anticipatory Release Computation (ARC) to reduce pumping.
Output volume with accurately modeled output distortion and clip LED.
Innovative Range knob that controls maximum amount of expansion or limiting.
Built-in interactive guide that displays current settings and active mode.
The Softube Valley People Dyna-mite plug-in is available to purchase for PC and Mac (VST/AU/RTAS) at the introductory price of $229 USD until the end of May (regular price $279 USD).
More information: Softube / Valley People Dyna-mite Plug-In