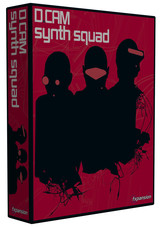 FXpansion has released version 1.0.3.11 of DCAM: Synth Squad, a collection of 4 software instruments for Windows and Mac.
DCAM: Synth Squad has been updated to v1.0.3.11, lightening the CPU load by 20-30% across-the-board, incorporating 480 new high quality presets, and fixing a raft of minor annoyances.
Changes in DCAM: Synth Squad v1.0.3.11
Significantly lighter CPU load.
Authorizes properly again on non-Roman user account names.
Fusor's automation entries update as you switch synths and effects.
You can now create new preset categories.
Mac standalones no longer require the VST.
Fusor supports oversampling.
Max polyphony for each synth doubled to 32.
Fusor mixer levels can be automated.
Registered DCAM: Synth Squad users can access the free v1.0.3.11 download from the fxpansion.com support area.
More information: FXpansion / DCAM: Synth Squad