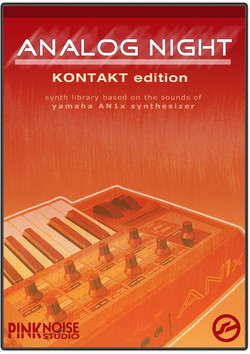 PinkNoise Studio has launched Analog Night Kontakt Edition, a sound library for Native Instruments Kontakt based on the best sounds of the Yamaha AN1x synthesizer.
Yamaha AN1x is a powerful retro-analog synth, it uses DSP modeling of analog waveforms to recreate the coveted sounds of analog synths with modern digital specifications.

ANALOG NIGHT was originally released by Eric Corminier (Reason.Fan) for propellerhead's REASON. Now it has been entirely rebuilt starting from the scratch. The new Kontakt edition provides vivid, dynamic and rich-sounding leads, bass, polyphonic keys and pads, giving you a new powerful synth in your favourite sampler.
Analog Night Kontakt Edition features
500 Kontakt patches (in 10 categories: All layers, Arp & Sequence, Bass, Bells & Brass, Experimental & FX, Key & Organ, Lead, Monosynth, Pad & Atmosphere, Strings).
1.12 GB of stereo samples (1834 wav files).
12 MIDI controllable knobs for realtime tweaking and for MIDI automation of the most important synth parameters.
Extensive editing techniques: multiple velocity layers, alternate triggering and sample starts to achieve fat, lively and vivid synth sounds.
The library is available for purchase for 30 EUR.
More information: PinkNoise Studio / Analog Night Kontakt Edition