Plug & Mix has announced it has added Basspeg, Gatevador, S-Tractor, Pitch Me, and Vibrator to its V.I.P. Bundle collection, which now comprises 50 effect plugins.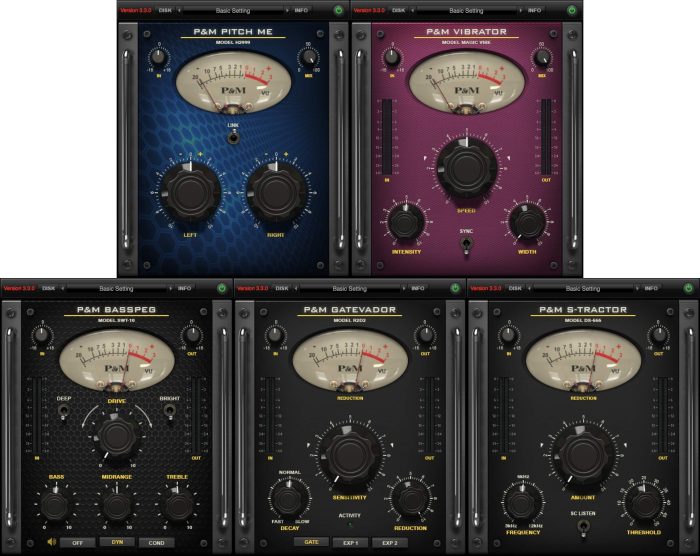 In addition, the Plug & Mix 'Chainer' has been upgraded to accommodate use of the five new plug-ins added to the V.I.P. Bundle. The P&M Chainer can be downloaded and used for FREE for those who have authorized P&M VIP series plug-ins.

Plug & Mix products are designed with the minimum amount of controls to get you working fast, not having to think about the interface, the knobs, bells and whistles… Pull up a preset, turn a few knobs to adjust, listen and your there!

In today's Music Production fast pace is key for professional studios to be competitive. Plug & Mix offers a very complete set of tools that enables one to work quickly while providing a professional sounding result. That is also why they have found their place in Educational facilities, letting students train on "easy to use audio tools".
New Plug & Mix plugins
Basspeg – Your new go to Bass Amp, built in parallel to the classic Ampeg SVT. It delivers deep lows and warmth to any Bass signal and is indeed very flexible with its parameters to easily contour and control your tone.
Gatevador – Allows you to easily and quickly control excess bleed and noise on your source material, and enhance and expand the good stuff! With minimal controls as per all our P&M plug-in designs, you can gate and expand to your hearts content.
S-Tractor – Your new de-esser; with just three parameters for quick and easy control of your vocal T's, P's, S's. Adjust the frequency, threshold and amount values to tame those harsh and nasal tones. Simple!
Pitch Me – A dual pitch shifter plug-in, developed with a nod to the formidable H910 units of old. Independently control left and right pitch values for added width and chorus effect to your vocals and guitars and synths, just like those artists from AC/DC to Zappa.
Vibrator – Like the Uni-Vibe, add movement to your mixes and instruments/sounds. Create spacial width effects and shimmer. Tuck the effect under your source with parallel mix control for added flavour to static, monophonic and dull sounds.
The new plugins are available for Windows and Mac (VST/AU/AAX) for the introductory price of $9.99 USD each (MSRP $49 USD). The V.I.P. Bundle is on sale for $99 USD (MSRP $249 USD). Previous owners of the V.I.P. Bundle get the new plugins in a free update.
More information: Plug & Mix