TANNOY has announced CMS 3.0, a new series of Dual Concentric driver technology equipped ceiling speaker models.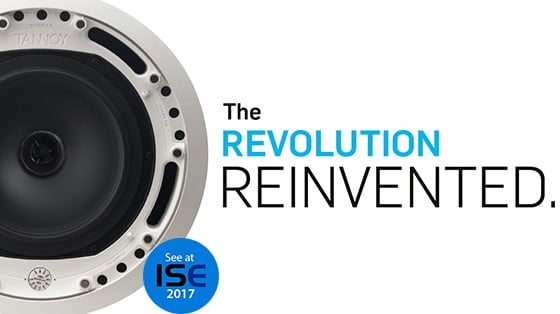 In the early 1990s we took our studio-grade Dual Concentric™ drivers and put them in the ceiling, giving birth to our legendary CMS (Ceiling Monitor System) and bringing true high quality audio to the ceiling loudspeaker space for the first time. Two decades later, we've taken the best and made it even better.

Featuring a fundamental reinvention of the Dual Concentric driver, the revolution continues with the CMS 3.0. The latest line of Dual Concentric equipped CMS comprises 5 models – CMS 403DCe, CMS 503DC, CMS 603DC and CMS 803DC – each designed to replace previous equivalent iterations – plus an all-new CMS 803DCQ 8" high-Q model, designed for high-ceiling/longer throw applications.
CMS 3.0 features
Dual Concentric Driver
The new driver features revolutionary Omnimagnet™ technology and a unique Torus Ogive Waveguide™ assembly to deliver more consistent and controlled directivity, with notable improvement in higher frequency ranges, in comparison to previous generations.
Design Features
The CMS 3.0 also features mechanical and aesthetic changes that make the process of specifying, installing and commissioning easier than ever before, with new back cans and clamp designs to more convenient termination panels and a choice of grille fixings, from the classic bevelled edge to the new Arco Grille accessory.
A Measurable Difference
The CMS 3.0 design also delivers improved time alignment and greater coherence between LF and HF, resulting in an even wider sweet spot and brighter, more defined and precise sound – for appreciably enhanced performance both on and off-axis.
High Performance, Low Impedance Systems
CMS 3.0 utilizes a 16 ohm driver, making it ideal for use in high performance low-impedance systems powering 8 CMS 3.0 loudspeakers per channel – with optimized performance when used in conjunction with LAB GRUPPEN LUCIA amplifiers.
See LAB GRUPPEN at ISE, 7-10 February 2017 at Stand 7-H179.
More information: TANNOY